Photo Courtesy of the PLL
In the highly anticipated rematch of last years championship game we knew we were in for a battle. In 2019 the Whipsnakes won on an overtime goal by Matt Rambo, and while the Whips did win again in overtime, the 2020 version of this classic rivalry felt very different.
The Redwoods and Whipsnakes entered the game prepared to face each other for a league-high fifth time, and the game started like most games do for the Whipsnakes, hitting singles.
By the numbers
With both goalies finishing the game at around 50%, the glaring advantage for the Whipsnakes was yet again face-offs. Nardella continues his MVP like campaign and went 18/26 at the stripe, with 15 ground balls. With such a disadvantage on face-offs, the Redwoods used their aggressive defense to create a ridiculous 17 turnovers keeping the game close.
Unlikely heroes
Brad Smith elevated his play adding 5 assists, while Jay Carlson out shined his line mates with 4 goals. Matt Rambo and Zed Williams were virtually non-existent on the stat sheet.
Pat Harbeson may have had one of the best all around stat lines of the series contributing 3 ground balls, 3 caused turnovers, and chipping in a goal.
With the game in overtime and a majority of the starting offensive midfielders gassed, Jeremy Sieverts scored the game winner, his first goal of the tournament.
Thick roots
The Redwoods have proven that they will compete with anyone in the league, and that they will do so through grit and team defense. The issue that plagued them last year, an ability to score consistently, plagued them again this season. We expect the Woods to return next year with a vengeance, and hopefully with a little extra help at attack.
PLL Betting Breakdown
With the game ending 13-12 in favor of the Whipsnakes, the Redwoods successfully covered and both team combined to breeze past the over. Look for the revamped Chaos to help the Whipsnakes hit the over again on Sunday.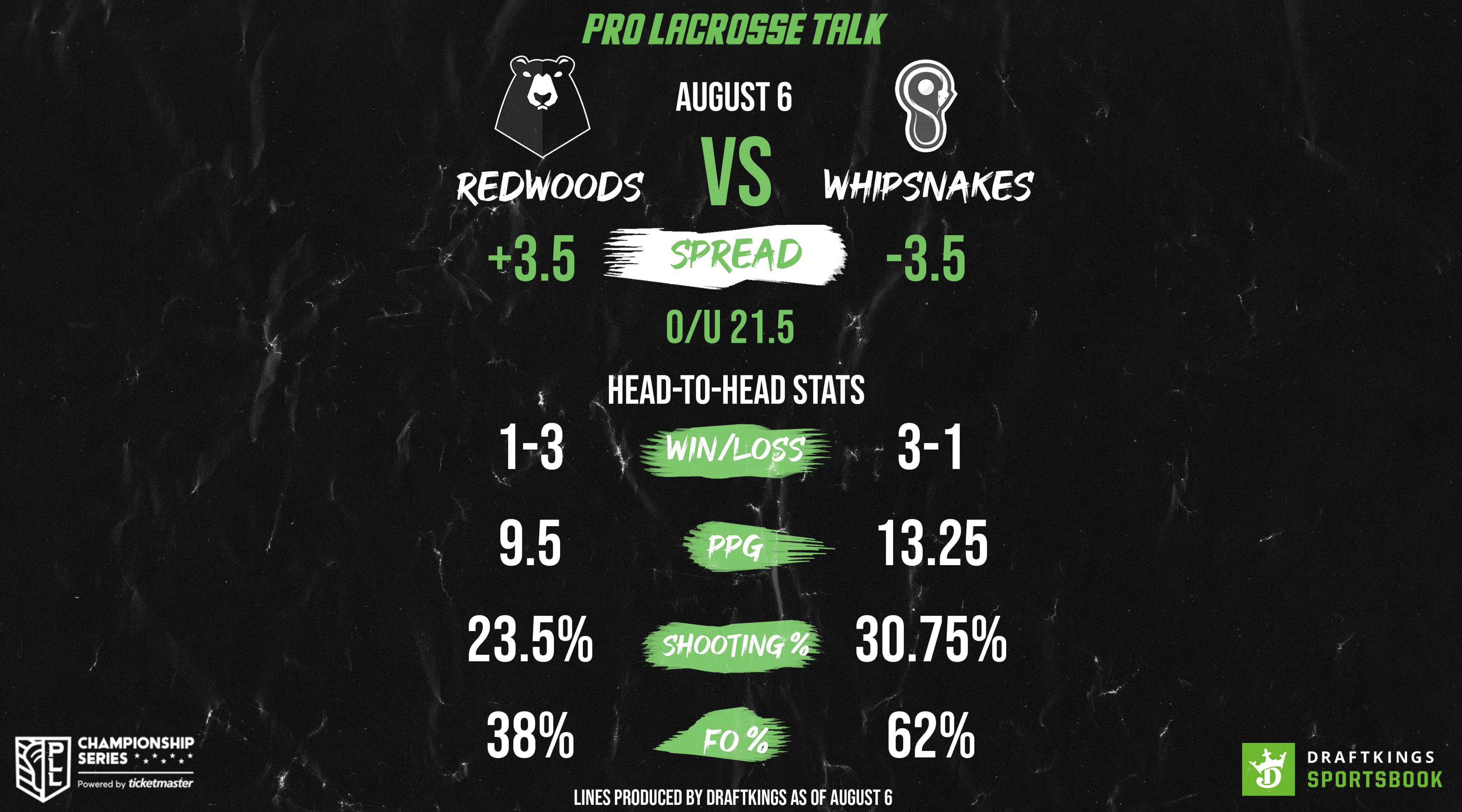 Next Up
With the results of today's game the PLL Championship is set, as the Whipsnakes will take on the spasmodic Chaos, who seem to have found their rhythm when it counts. Look to take the over when these two teams meet on Sunday, August 9th, 12:30pm ET (NBC).