Photo courtesy of the Premier Lacrosse League
The Whipsnakes continued their strong PLL Championship series, moving to 3-0 and recording their second win in as many days. Their most recent victim was the Chaos, which aptly describes what happened at the face-off stripe in the contest.
Joe Nardella is a bad man, and I mean that it the best way possible. To me, he is the clear front runner for MVP to this point, along side his teammate Zed Williams. Nardella went 18-21 (86%) on face-offs, and contributed a goal and an assist, along with 12 groundballs.
Not only are the Whips dominating face-offs (75% through three games), they are also benefiting from unreal goalie play by Kyle Bernlohr (69% save percentage this season). Kyle continues to make unbelievable saves behind incredible defensive play by just about everyone.
New Year, New Role
After three games it's became readily apparent that Matt Rambo has taken on a different role with this year's Whips' offense. Last year Rambo was the teams leading scorer (19 goals, 23 assists), but with Ryan Drenner and Ben Reeves gone, the team now has Jay Carlson in a bigger role, while Williams has quite literally been unstoppable. What does this mean? It means that Rambo, while still a danger to score, is even more dangerous of as a passer.
Williams is a problem. He has 10 goals and 2 assists through three games to lead the Whips in points.
Blaze Needs Help
After a shaky start to the season (43% against the Chrome), Blaze has been on a tear recording 23 saves (77%) against the Redwoods, followed by 21 saves (66%) against the Whipsnakes.
One person eager to help Blaze out is new arrival, Curtis Dickson. Dickson has been able to take over the offense with 10 points and only ONE turnover.
If the Chaos are to achieve anything during playoffs they'll have to find ways to help Tommy Kelly at the face-off strip (37%), and the defense in front of Blaze will need to tighten up. Last season, Jarrod Neumann was defensive player of the year. In PLL year two, he doesn't look up to that form. Lastly, while Connor Fields has quietly produced 4 goals on 12 shots, he doesn't seem to be having as big of an impact as he did last season. Solution: lets get Fields more touches on more possessions.
PLL Betting Breakdown
While the Chaos (+3.5) were covering for a majority of the game, a late surge by the Whipsnakes brought the game to 12-7. As for the O/U of 22.5, we're back to hitting the under folks.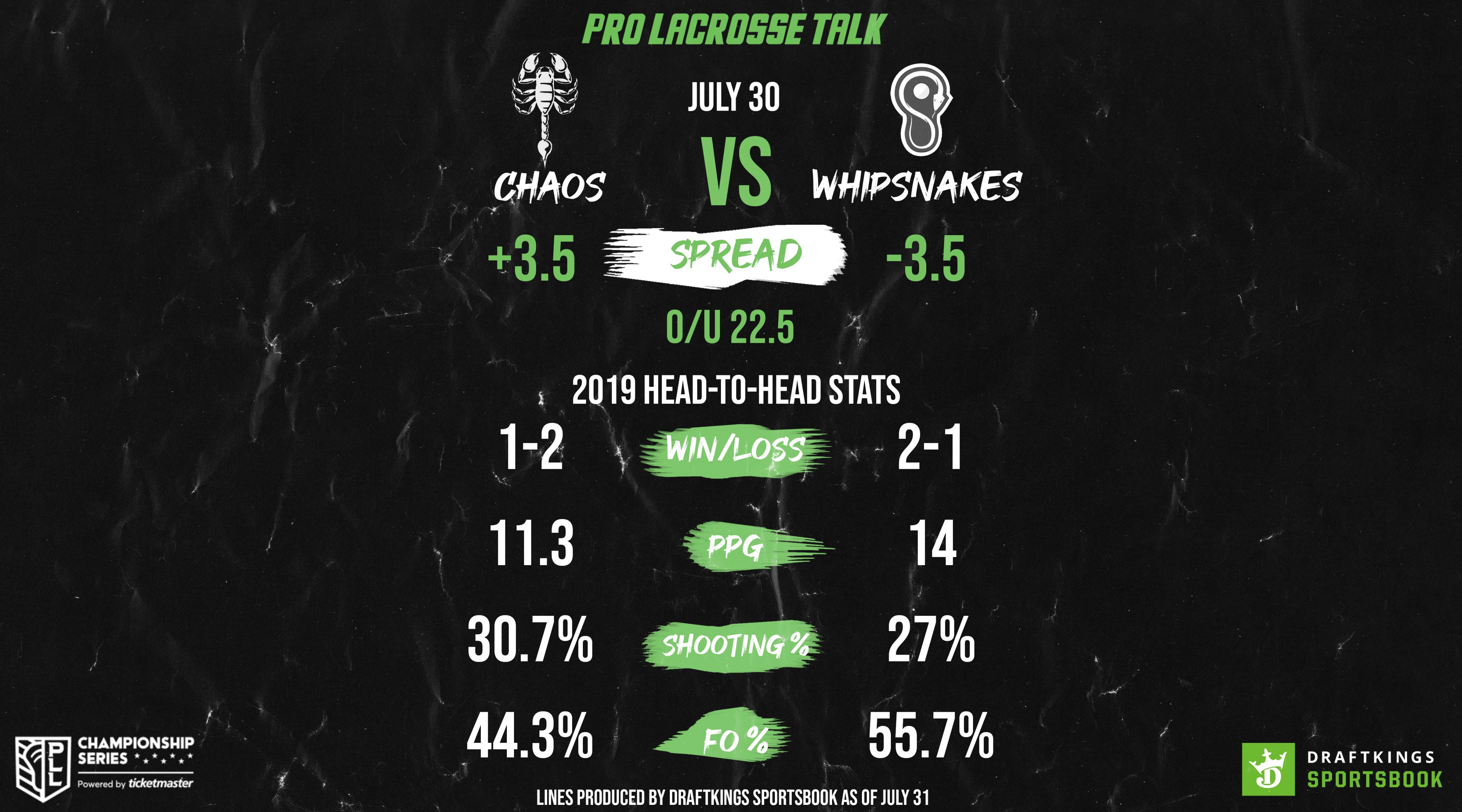 Next Up
The Chaos take the field again Saturday as they play the Waterdogs at 3:30pm ET. This game will feature the leagues only win-less teams. Conversely, the Whipsnakes take on the Archers, Sunday 12:00pm ET, in a battle of the leagues only undefeated teams. This will be a huge weekend in terms of playoff seeding.